(BPRW) New book, Dream On! is a groundbreaking research study into the racial and gender inequalities that undergraduate African American women experience in STEM | Press Releases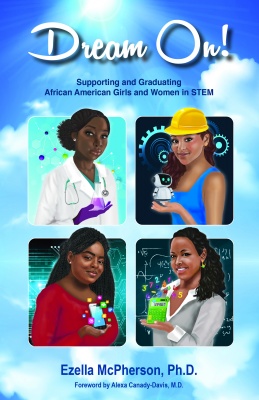 [ad_1]
(BPRW) New book, Dream On! is a groundbreaking research study into the racial and gender inequalities that undergraduate African American women endure in STEM
(Black PR Wire) Detroit, Michigan – Ezella McPherson, researcher in African-American education, science, technology, technology and mathematics (STEM), publishes new book "Dream on !: Supporting and Graduating African American Girls and Women in STEM" (ISBN: 978-1737273127). The book addresses the research question: "What are the experiences of African American women who stay in STEM majors and those who move on to majors in social and health sciences?" "
At the beginning of the book, Dr. McPherson points out that in childhood, African American women have a genuine love for science and math in elementary and secondary schools. Although many African American women took advanced math and science courses in high school, it was in middle school that they encountered challenges at a predominantly white institution (PWI), Town University (pseudonym). .
In the middle chapters, as part of this groundbreaking study, Dr. McPherson found that African American women who remain in STEM have undergone a hidden curriculum that has created racial and gender inequalities in concerns the limitation of access to learning in STEM. The book also points out that African American women who left STEM majors were in fact kicked out of STEM majors.
The final chapters encourage readers to keep dreaming about pursuing college education and career goals despite obstacles! Recommendations are made for instructors, administrators and practitioners who wish to support African American women in STEM.
The foreword to the book was written by Dr. Alexa Canady-Davis, the first African-American female neurosurgeon. The book's sponsors are prominent STEM scholars, Dr. Freeman A. Hrabowski, III, the current president of the University of Maryland-Baltimore County, and Dr. Sandra L. Hanson, professor emeritus at the Catholic University of America. The book is a must read for students wishing to pursue graduate studies in STEM and medicine, families, educators, practitioners and policy makers.
The official release date for the eBook and Paperback is October 15, 2021. The eBook is currently available for pre-order on Amazon. The paperback will be available through IngramSpark and other retailers.
The book is timely as it will launch ahead of National STEM / STEAM Day on November 8, 2021.
About Dr Ezella McPherson
Dr. Ezella McPherson is an educational advisor, student retention expert and researcher. She is the author of the bestselling book "Real Outreach: A Practical Guide to Retaining and Graduating College Students" (ISBN: 978-1737273103). She is also a first generation graduate African American woman. She has over a decade of experience supporting students during their undergraduate studies, including STEM majors. She is the founder of Dr. McPherson Coaching, LLC, an education company specializing in increasing student retention and graduation rates. The education company offers individual coaching and workshops to students, families, professionals and institutions. For more information, visit the company's website (www.drmcphersoncoaching.com). She received a BA from the University of Michigan-Ann Arbor and received her MA and PhD in Educational Policy Studies from the University of Illinois at Urbana Champaign.
The content and opinions expressed in this press release are those of the authors and / or the companies represented, and are not necessarily shared by Black PR Wire. The author (s) and / or the companies represented are solely responsible for the facts and the accuracy of the content of this press release. Black PR Wire reserves the right to reject a press release if, in Black PR Wire's opinion, the contents of the press release are not suitable for distribution.
[ad_2]