UW-River Falls students learn teamwork and research skills to make older combines more efficient and profitable for small farms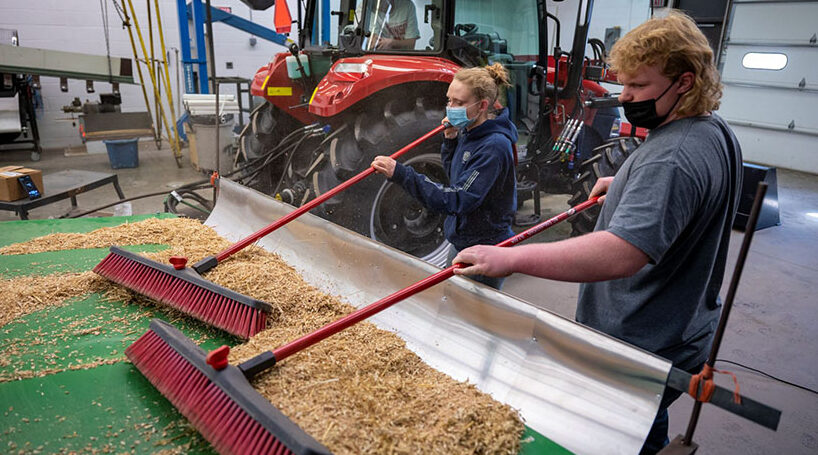 Agricultural engineering and agricultural engineering technology students at the University of Wisconsin-River Falls are researching ways to make older combines more efficient and improve profitability for small farmers.
The research is part of a $150,000 grant from the United States Department of Agriculture led by Sierra Howry, associate professor of agricultural economics, and Matt Digman, former assistant professor of agricultural engineering.
Using a 1960s Oliver combine, agricultural engineering senior Alex Pierson, of Mayer, Minnesota, along with junior Kyle Leis, of Wilton, and Rames Frisch, a freshman from Wausau, both specializing in agricultural engineering technology, developed two methods to potentially make the combine more efficient when harvesting with a new header configuration.
One method used a series of small brushes bolted to the head auger to help push the wheat kernels to the middle of the auger and thus be better transported to the feed house. The other used a 5/16th sheet of plastic to help fill the space under the auger and prevent grain loss.
The students worked with Bob Zeng, assistant professor of agricultural engineering, and Youngmi Kim, associate professor of agricultural engineering.
"Students are re-engineering old equipment to improve the productivity, efficiency, profitability and sustainability of small farms to support the local agricultural movement towards low-carbon, circular food production systems," Zeng said.
Small farmers – those with 5 to 50 acres – may not be able to afford new combines and could potentially increase productivity with a low-cost overhaul.
"It's more affordable for small farmers to be more efficient rather than buying new equipment," Pierson said.
Initial data suggests that the wedge created a high efficiency of 90% and the brushes have an 80% higher efficiency, compared to 80% efficiency without any modification. However, students will analyze the data in greater depth. They will eventually share their findings with stakeholders, including local farmers.
Being part of the research as a freshman created a hands-on learning environment, Frisch said.
"It certainly teaches you a lot just to get into a project," he noted.
Leis agreed. "I like working with my hands with adjustable wrenches," he said, noting that an important part of the project for him was ensuring that farmers would have the skills to redesign their equipment in a way profitable.
Kim noted that the project allows students from different majors to work collaboratively.
"It's beneficial in the real world," Kim said. "They gain the experience of working as a team. He challenges the students. Students need to understand the issues. They have to think about alternative solutions, compare them and choose the best one to solve the problems. They acquire skills in project management. They will present their work to members of the Industry Advisory Council in May.
Pierson, who is graduating in May, said being part of a design and research project is a great addition to her resume.
To learn more about the program, email Zeng at [email protected]
The UWRF Agricultural Engineering degree offers three concentration options including Machinery Systems; food and process systems; and natural resources and environmental systems.
The Agricultural Engineering Technology degree focuses on applied science and engineering and using existing technology to solve real-world problems in the food, fuel, and fiber industry. The university also offers a minor in agricultural engineering technology.
---
By University Communications and Marketing, UW-River Falls
Link to original story: https://www.uwrf.edu/News/Studentslearnteamworkresearchskillstomakeoldercombinesmoreefficientandprofitableforsmallfarms.cfm